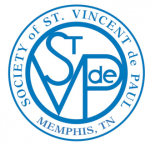 St. Vincent de Paul Food Mission
Hours: 7:30 or 8 a.m. to 12:00p.m.
Monday through Saturday
1306 Monroe Avenue, Memphis, TN 38104
The ideal candidate must have proven working experience as a cook; familiarity with kitchen equipment, and utensils; be able to function in a fast-paced, busy environment; be able to lead and work with volunteers.
Duties
• Prepare, cook, and serve a variety of foods following health and safety guidelines for 150-250 guests daily from available food items on hand.
• Ensure proper handling and storage of ingredients and food items.
• Maintain food safety and sanitation standards.
• Execute opening and closing procedures with guidance of daily team leads.
• Operate kitchen equipment such as stove, oven, etc.
• Maintain a clean and orderly kitchen by working with volunteers in cleaning and sanitizing work areas, washing dishes, taking out trash, emptying outdoor trash cans, and picking up trash on the property.
• Work with and guide volunteers in the assistance of food preparation and food serving.
• Keep daily Fridge/Freezer Temperature Logs.
• With assistance from volunteers unload deliveries from the Midsouth Food Bank (typically 2,000-5,000 lbs.) and various other donations of food, clothing, and supplies.
• Perform other kitchen duties as assigned.
Skills
•Proven working experience as a cook.
• Familiarity with kitchen equipment and utensils.
• Knowledge of health and safety rules in a kitchen.
• Manual dexterity able to operate cutting tools and kitchen utensils.
• A team player with good communication skills.
• Ability to stay positive under pressure.
• Very good physical condition and endurance with the ability to lift up to 50 lbs. regularly.
• High school diploma or equivalent.
• Training from a culinary school will be an asset but not mandatory.
Please contact Gloria Hyden at gloria.hyden.svdp@gmail.com if interested or for any questions.