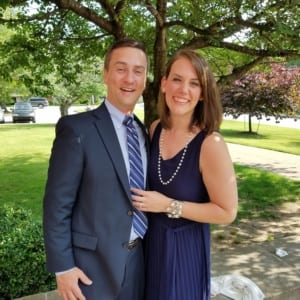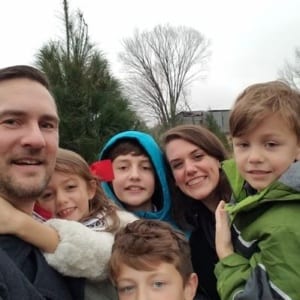 My name is Derek Rotty. I am a Catholic, a husband, a father, a minister, a writer, and a lover of great food, cheap wine, and baseball.
I was received home into the Catholic Church at the Easter Vigil in 2004, and I have served as a lay minister in parishes ever since. My experience in ministry spans age ranges from children to adults; ranges from training catechists to conducting spiritual retreats; to developing diocesan-level theology and ministry-training curricula. My entire goal is to share the Good News of Jesus Christ, to help form people in discipleship, and to equip others to make disciples, too. Based on my own story of transformation and conversion, and my years of ministry, the Lord called me to write a book, which will be published in August 2019.
My book is titled A Life of Conversion: Meeting Christ in the Gospels. Conversion is the hallmark of the Christian life. If we are on the journey of discipleship, we are constantly called to turn more fully toward Jesus Christ. It is not a one-time call. Instead, the turning, the conversion, must happen every day.
Where and how do we find the inspiration for this daily conversion? One of the best places and ways is by praying with Sacred Scripture. This book is an extended invitation into lectio divina, emphasizing encounters with Jesus that led to conversion. Because Scripture is "living and effective" (Heb. 4:12), we can return to these stories day after day or season after season for new inspiration and deeper understanding of where the Lord is calling each of us.
Chris Stefanick, an internationally-known Catholic evangelist and author, has commented about my book:
Pope Emeritus Benedict XVI said about Lectio Divina, "If it is effectively promoted, this practice will bring to the Church – I am convinced of it – a new spiritual springtime." Derek Rotty is effectively promoting Lectio Divina, watering the fields for that springtime – not just for the renewal of the Church, but for the renewal of every person who dives into the epic and lifelong journey waiting for us in every line of sacred scripture.
I hope that you will consider purchasing a copy of this book, and putting the principles into practice in your life. This is the process by which our lives and our Church will be transformed for God's glory!
I am very interested to come to your parish or diocese to share the message of ongoing conversion, along with other insights about the mission of the Church, the work of making disciples, and living a virtuous life. I am available for parish missions, catechist formation sessions, weekend retreats, or any other format that will help to bring parishioners to a transformative encounter with Jesus.
You can find more information about me and my book, along with other videos and articles, at my website: www.derekrotty.com. You also are able to contact me through my site if you have further questions. I look forward to hearing from you and working with you!