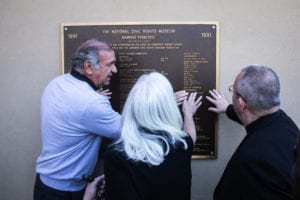 By Beth Simkanin, Catholic Diocese of Memphis
MEMPHIS, Tennessee, April 3, 2019 – The Most Reverend Bishop David P. Talley was installed as the sixth bishop of the Catholic Diocese of Memphis at the Cathedral of the Immaculate Conception in Memphis, Tenn., on Tuesday, April 2, 2019.
Over 1,000 people attended the invitation-only installation mass including, the Most Rev. Christophe Pierre, apostolic nuncio to the United States; the Most Rev. Joseph E. Kurtz, archbishop of Louisville, Ky.; the Most Rev. J. Terry Steib, S.V.D., bishop emeritus of Memphis and Cardinal Justin Rigali, archbishop emeritus of Philadelphia, Pa., who now resides in Knoxville, Tenn.
The installation was streamed live from the diocese's website, Facebook page and YouTube channel.
"The Holy Father has appointed you to shepherd this portion of the people of God, to be a true father and pastor, and bring them healing, unity and hope amid the storms of this world," Pierre said before presenting the papal letter of appointment. "You are man of prayer who never ceases to intercede for his flock. You will have your work cut out for you. We're confident you will get things done."
During his homily, Talley referenced the first reading, Ezekiel 36:24-28, from which he receives his episcopal motto, "He will give you a new heart." He offered words of gratitude and encouraged the faithful in west Tennessee to be transformed by a new spirit and a new heart.
"He has claimed us as living branches, and we bear the fruits of His spirit," Talley said. "When things seem difficult to face, let us remember the prophesy of Ezekiel, 'I will bring about a new spirit, and I will wash you clean.' The Lord has given us a new heart, the heart of His son, which implores us to be transformed into a body for one purpose: to love the Lord with all of our heart, all of our soul, all of our strength, all of our mind and to love our neighbor, every neighbor, as we love ourselves."
Previously, Talley was bishop of the Catholic Diocese of Alexandria, La., a position he served for two years. He served in various roles for the Archdiocese of Atlanta over a 23-year period. He was ordained to the episcopacy as auxiliary bishop of the Archdiocese in Atlanta in 2013.
During the installation, the apostolic nuncio referenced Memphis' connection to Dr. Martin Luther King, Jr., who is a personal hero of the bishop.
King was assassinated at the Lorraine Motel in Memphis on April 4, 1968.
"Help the Church in Memphis dream again," Pierre said. "Dr. King's dream continues to inspire us all. The Holy Father has dreams of a bright future for Memphis."
Talley visited the National Civil Rights Museum, which is located at the site of the Lorraine Motel, with friends and family on April 3, the day following his installation.
"I wanted friends and family to be here with me today because these events changed my heart many years ago," Talley said referencing his conversion to Catholicism at the age of 24. "The words of Jesus manifested through Dr. King. At the time when I was a young man I didn't know how to react, but I know how now."
Talley will visit over 25 parishes in the diocese over the next two months to visit the faithful throughout the diocese, which encompasses 21 counties and over 61,000 Catholics.
"I'm overwhelmed with love and feel welcomed, and that leaves me with a full heart," Talley said.