Bishop Talley and Memphis Diocese featured for new television series "The Chair" byAmy Hall
February 26, 2020
MEMPHIS, TN – The cathedral choir had a special surprise Sunday evening when a film crew from Brooklyn, NY interrupted their practice time. The television crew was present to get footage for a new series, titled, The Chair, which will tell the story of the Catholic Church in America.
The CDOM Office of Communications along with Jack St. Martin, Executive Producer of The Chair, have been planning the filming since September of 2019 and the Office of Communications is thrilled that it has all come together so beautifully.
As soon as cameras and gear were unpacked, the film crew from DeSales Media Group flew drones around the exterior of the cathedral capturing the architecture and grounds , while videographers filmed the interior highlighting its beauty and history.
Series host Monsignor Kieren Harrington, spent about an hour talking with Bishop Talley about his conversion to catholicism, his time as bishop and our community of Catholics.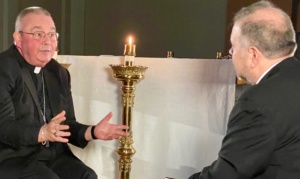 "In Catholic churches, there is a great deal of activity taking place because this is where the community gathers," Monsignor Harrington said. "When you have something which is beautiful, it elevates the soul."
The nature of the series is about how faith has grown historically in each diocese from the perspective of its shepherd. With Memphis being the fifty-seventh cathedral to be featured, each episode will be run first locally in the diocese where it was filmed; then it will move to both secular and Catholic media distribution over time.
Monsignor Harrington hopes it will reach Catholics who may have been away from the Church as well as non-Catholics who are interested in faith.
"I'm hopeful that maybe this will be an opportunity to cause people to take a look at some beautiful places," Monsignor Harrington said, "and if they go and take a look at beautiful places, they can see how that maybe opens them up to God."
He also hopes practicing Catholics will watch and see something that makes them proud. Ultimately, the goal is to reach everybody.
The series will be in production for approximately another six months.