Bishop Talley Hosts a Dinner for our Deacons and their Wives with some added Interesting Facts about this Vocation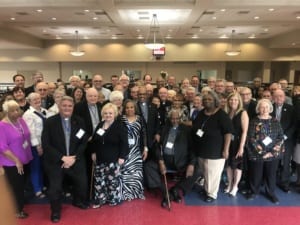 This past Saturday, June 15, Bishop Talley hosted a dinner at SBA for the deacons and their wives from our diocese. I can't think of a better time to offer a glimpse into the formation process and hopefully give everyone a greater appreciation for the role of the deacon in the life of our Church. I also think you will want to go and thank a deacon today after reading everything involved in becoming a Catholic deacon.
WHAT IS A DEACON?
In the Catholic Church, a deacon is an ordained member of the clergy. In other words, a deacon receives the sacrament of Holy Orders. There are three orders in the Catholic hierarchy — deacon, priest and bishop. Ordained Catholic ministers enter the clerical state with ordination to the diaconate. Some deacons are later ordained priests, just as some priests are later ordained bishops. But a bishop does not cease to be a priest, nor does a priest cease to be a deacon. In that sense, all Catholic clergy are deacons.
And just as with priests and bishops, the sacrament of Holy Orders leaves an indelible mark on a deacon's soul (as does Baptism and Confirmation). This means once ordained, a deacon is always a deacon, even if he retires or is no longer in active ministry.
Another very interesting fact I learned is that deacons serve at the pleasure of the Bishop. This is a large reason you may see the deacon from your parish assisting the Bishop during masses. You may also see the hanging around close to the bishop at various events. As a side note, have you ever noticed that Deacon Chris from Nativity looks a lot like a body guard when he accompanies Bishop David?
WHAT DOES "DEACON" MEAN?
The word comes from the Greek diakonos, which means "servant." It is appropriate that the first and most basic order of ministry in the Catholic Church is the ministry of service.
ARE DEACONS IN THE BIBLE?
Yes. St. Paul talks about the qualities a deacon should have in 1 Tim 3:8–13. We see the first deacons being ordained for service in Acts 6:1–7. They were selected to help with food distribution. But immediately after in Acts 6:8–15 we see one of those deacons, St. Stephen, being martyred for preaching the gospel. In the rest of Acts we find deacons preaching and baptizing, which is a ministry deacons carry on today.
SO WHAT DO DEACONS DO?
The most visible role of deacons in the Catholic Church is their liturgical role at Mass, most notably proclaiming the gospel and sometimes preaching homilies. A deacon can also perform baptisms and officiate at weddings and funerals. But this is only a small part of a deacon's ministry. Most deacons are assigned other ministries. Prison ministries, which Deacon Bill is in charge of in our diocese- and does some very nice and special things with the prisoners- definitely worth asking him about when you see him next time, and hospital ministries are perhaps the most well known, but some deacons serve as youth ministers, airport chaplains, spiritual directors, work with homeless shelters, and more. Most deacons receive no financial compensation for their ministry and so must also work a full time job.
CAN'T A LAY PERSON DO ALL OF THAT?
Apart from certain liturgical roles, yes, a lay person can do pretty much anything a deacon can do. This only underscores the fact that what is important about the deacon is not what he does, but who he is. The deacon is an icon of Christ the Servant in the world.
WHAT'S THE DIFFERENCE BETWEEN A "PERMANENT" AND "TRANSITIONAL" DEACON?
Sacramentally speaking, there is no difference. There is only one order of the diaconate, not two. In the Roman Rite, some men are ordained deacons who also intend to be ordained priests. We call these transitional deacons. Other men (most of whom are married) are ordained deacons with no intention of being later ordained a priest. We call these permanent deacons. But they are ordained to the same diaconate.
SO MARRIED MEN CAN BE ORDAINED DEACONS?
Yes. Celibacy is not a universal requirement for Catholic clergy, although it is expected of any clergy should their wives predecease them. In different times and places there have been different disciplines regarding celibacy among the clergy. As it stands today, in the Roman Rite, married men may be ordained to the diaconate, but not to the presbyteriate (priesthood) or episcopacy (bishop). In the various Eastern Rites, married men may be ordained to the diaconate and the priesthood, but only celibate men are ordained bishops. In all places and times, however, the Church has maintained a strict discipline of not allowing marriage after ordination. So for any ordained married clergy, including permanent deacons, if their wives should die before them they are expected to remain celibate. (Another interesting tidbit: before a married man can be ordained as a deacon, he must have his wife's express written consent).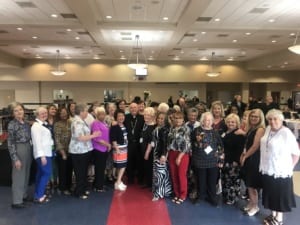 (photo of our deacons wives)
PRAYER OBLIGATIONS
Deacons are obligated to pray the Liturgy of the Hours at least twice daily. The Liturgy of the Hours is the daily prayer of the Church, centered largely around the psalms but containing other scripture readings, prayers and hymns. Deacons may preside at public celebrations of the Liturgy of the Hours.
WOW. THIS IS MORE INTENSE THAN JUST SITTING ON PARISH COUNCIL.
Yes. Yes it is. (Though one should not discount the white martyrdom of enduring long parish council meetings).
SO WHAT IS INVOLVED IN BECOMING A DEACON?
Specific formation programs vary from diocese to diocese, although the US Council of Catholic Bishops has established standards in the National Directory for the Formation, Ministry, and Life of Permanent Deacons in the United States. Most dioceses requires completion of a Lay Ministry formation program before applying to be a candidate for the diaconate. The Lay Ministry program consists of 150 class hours over a two year period. Preparation for the diaconate itself consists of one year of Aspirancy (best described as a very intense discernment year), followed by a four year formation program. In other words, it takes seven years altogether. Aspiring deacon candidates have to pass a physical exam and go through psychological screening.
To give some idea as to what the formation process involves, if one were to begin tomorrow, he would meet roughly every other weekend from the end of August to the beginning of June (with some time off for Christmas). In addition to in-person sessions, there is an ongoing distance learning component, regular reading and writing assignments, and prayer obligations. Topics covered include scripture, canon law, theology, philosophy, church history and liturgy. Candidates are expected to meet regularly with a spiritual director as well as an assigned deacon mentor, and to participate in many of the ministries they may be called upon to engage in as deacons.
A man in diaconal formation goes through a series of liturgical rites along the way. At the end of the first year of formation, he is formally accepted by his bishop as a candidate for ordination in the Rite of Candidacy. At the end of the second year he is installed as a Lector. At the end of the third year he is installed as an Acolyte. And finally at the end of the fourth year he is ordained Deacon and enters the clerical state.
IS THERE AN EDUCATIONAL REQUIREMENT?
No. There are men who are deacons with many educational backgrounds, from bachelors degrees to PhDs. Some have graduate degrees in Theology or related studies. Some are working on a Theology degree in conjunction with formation (brave, foolhardy souls!). But a degree is not required, and the formation program itself conveys no degree. While there is a strong educational component to formation, it is less about teaching the candidates and more about helping to form them into more perfect icons of Christ the Servant. Education in the faith is one part of that, along with prayer and discernment.
DO DEACONS WEAR CLERICAL DRESS?
Deacons are clerics and so according to Canon Law they are to wear suitable ecclesial garb according to the norms issued by their bishop and in keeping with local custom. Most Catholics are used to seeing priests in clerical dress most of the time (except when mowing the lawn or cleaning out the basement). One must keep in mind, however, that most deacons work a full time job outside of the Church. It wouldn't make sense to require deacons to wear clerical attire when working as an auto mechanic, a bank teller, or police officer.
Some people believe that deacons should not wear clerics because they may be mistaken for priests, or if they do, they should differentiate their attire somehow. In our diocese you will see our deacons mostly wear grey clerics while our priests and bishops usually always will wear black. Regardless, clerics are shared by all in the clerical state, be they deacon, priest or bishop.
In the United States, some bishops permit their deacons to wear clerical attire while others do not. Here in the Diocese of Memphis, Bishop David allows deacons to wear clerical attire at their discretion if they believe it will enhance their ministry.
HOW ARE DEACONS ADDRESSED?
In the Roman Rite, when speaking to a deacon you would call him "Deacon [Last Name]," unless you knew he preferred to be addressed as "Deacon [First Name]." In writing, you would address a deacon as "Rev. Mr. [Last Name]."
WHAT SHOULD I DO IF I THINK I MAY HAVE A VOCATION AS A DEACON?
First, talk with your family (especially your wife, if you are married). Then talk with your pastor. If there are deacons in your parish, you should talk with them, as well. And always talk to the Director of Vocations. Here in Memphis the Director of Vocations is Father Robert Szczechura. You can reach him by phone at 901-323-3817 or via email at vocationsdirector@vocations.cdom.org
You will of course want to do some reading about the diaconate. A good place to start is 101 Questions & Answers on Deacons by William T. Ditewig. And the most important part is to pray, pray, pray!
MORE INFORMATION ON THE DIACONATE