Catholic Charities of West Tennessee Welcomes New Executive Director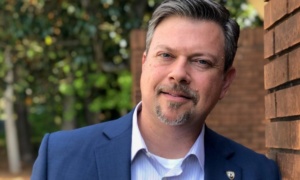 Memphis, Tenn., – January 20, 2020 — Catholic Charities of West Tennessee is pleased to announce S. Kelley Henderson as its new Executive Director. Henderson will succeed Monsignor Al Kirk, who has been serving as the interim Executive Director since June of 2019.
Kelley comes to Memphis from Atlanta where he recently served as Chief Executive Officer of Action Ministries in care for the hungry, homeless and youth across North Georgia. He has been involved with homeless outreach and poverty issues since 2006, transitioning from a private sector career of wealth management services for 12 years.
Catholic Charities of West Tennessee was started in 1971 and serves more than 30,000 people each year. Its staff and volunteers provide services and programs like feeding and clothing the poor, providing housing and services to the homeless and aiding legal immigrants on the path to citizenship. Catholic Charities serves on the front lines of poverty in Memphis and surrounding counties in West Tennessee and is part of the Catholic Diocese of Memphis.
"Many thanks to Monsignor Kirk for leading Catholic Charities while searching for our new Executive Director. We are blessed to now have Kelley lead Catholic Charities as a proven and caring community leader," said Bishop David Talley of the Catholic Diocese of Memphis. "Our Diocese and the surrounding communities will benefit greatly from Kelley's deep faith and vast experience in working with the poor. Through God's work and their hands, Kelley and the wonderful brothers and sisters at Catholic Charities will further advance the spiritual works of mercy–feeding the hungry, welcoming the stranger, sheltering the homeless and clothing those in need."
Kelley says his work with the poor was an "unexpected vocation," and one that has offered him purpose and inspiration for the past decade. He is passionate about volunteerism and often speaks on the topic to help communities connect and learn how to be neighbors. Kelley also speaks to churches and other groups frequently on the intersection of spirituality and service from his perspective as a professed Lay Carmelite brother.
"It is an exciting time to be joining the faithful of the Diocese of Memphis and I am humbled by the commitment of so many who serve across West Tennessee. I ask for your prayers in joining this important ministry and for the continued support of our generous benefactors who make all this work possible."
Kelley is a graduate of Georgia Southern University in Statesboro, Ga., with a Bachelor's degree in Business Administration, and has a Masters in Theology from Spring Hill in Mobile, Ala.
Catholic Charities of West Tennessee serves people regardless of religious beliefs, socio-economic status or ethnic background. Catholic Charities is not just for the Catholic community; it is from the Catholic community.