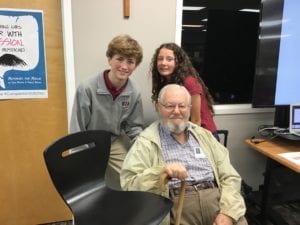 April 26, 2019 – Memphian, Dr. Clark Blatteis talked with students about the events leading up to World War II and his family's experience aboard the St. Louis as they sailed from Germany to Cuba to escape Nazi persecution.
"Seven-year-old Clark and his parents were among the 937 refugees aboard the St. Louis. The trip from Germany to Cuba lasted about two weeks. When the St. Louis reached Havana on May 27, only 28 Jewish refugees were allowed entry. The passengers stayed on the ship for five days. Then the St. Louis sailed slowly toward Miami. Telegrams to the White House and the United States State Department proved futile. The ship turned back. Belgium accepted 241 passengers, Clark and his family among them. When the Germans invaded, they were trapped again. We ran and hid in our cellar and heard bombs going off overhead. After the destruction, we were arrested for being German nationals. Upon release, they traveled through France to Spain and boarded a boat for Morocco. After eight years in Casablanca, they finally made it to the United States." – Excerpt from the Tennessee Holocaust Commission
Dr. Blatteis wants to make sure that the lessons from the Holocaust are not forgotten by today's youth. He talked about the importance of protecting the freedoms of all people.