Knights tap Michael McCusker as next State Deputy – Andy Telli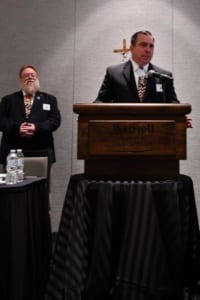 Michael McCusker followed the example of his grandfather and his fellow parishioners at Immaculate Conception Church in Knoxville into the Knights of Columbus.
"They were always a presence," McCusker said of the Knights. His grandfather had been a Knight in Philadelphia, and "I wanted to be like him and the guys at Immaculate Conception."
His path has taken him to the order's highest office at the state level. McCusker, a parishioner at St. Francis of Assisi Church in the Memphis suburb of Cordova, is the State Deputy-elect of the Tennessee Knights of Columbus.
He was elected during the Knights' state convention, held May 3-5, at the Franklin Marriott at Cool Springs Hotel in Franklin. McCusker will succeed Tracy Staller of Holy Family Church in Seymour, who is finishing his two-year term in the office.
"I love the camaraderie," McCusker said of the Knights, the largest organization of Catholic lay men in the world. "It has replaced for me that bond I had with my brothers in the military."
McCusker, who is an Assistant District Attorney General for Shelby County, retired as a major after serving 21 years in the Tennessee Army National Guard, including a tour of duty in Afghanistan.
McCusker joined the Knights at 18 years old and rose to the office of Deputy Grand Knight of Council 645 in Knoxville while still a college student. After college he moved to Memphis to attend law school.
He transferred his membership to Council 9317 at St. Francis of Assisi Church and again rose through the ranks to become Grand Knight of the council, which at the time was the largest in the state.
At the urging of Past State Deputy Bob Rounsefell, McCusker ran for state office, rising through the state offices of warden, advocate, treasurer and secretary before his election as the next State Deputy.
"Bob Rounsefell was my mentor. Still is my mentor," McCusker said. "He's the one who told me I needed to be a state officer."
McCusker will be installed as the State Deputy by Supreme Knight Carl Anderson during the organizational meeting of state deputies in New Haven, Connecticut, in June.
One of the priorities for McCusker will be to maintain the momentum of recruiting new members that has been generated under Staller's term.
He noted that the recruiting success has come during a time when the Catholic Church is under attack and facing many problems. "The state this year has 605 new members," McCusker said. "In times so bad for the Catholic Church, we had 605 men step up wanting to be part of the faith."
The key to the success has been helping men deepen their relationship with Christ, McCusker said. "Tracy has done a great job of being Christ-centered" in the Knights' programming, he said.
McCusker wants councils to be service-oriented but also evangelizers of the Catholic faith.
The approach the state has adopted under Staller's leadership has fit well with the international order's Faith in Action program, designed to integrate Knights more deeply into the life of their parishes, McCusker said.
"We fully embraced it," McCusker said of the Faith in Action program. "We saw it as an opportunity to help … men strengthen their faith life and re-energizing them in their parish and family. We did that by making it all about faith."
McCusker plans to reorganize the structure of the recruitment efforts. Instead of appointing separate recruitment and retention chairs, he plans to create a membership office with a staff that will address recruitment and retention so the efforts are better coordinated.
He also will concentrate on building a strong programming team "so it's not just one guy doing all the work."
McCusker wants to improve communications within the order.
"We're going to find a better way to communicate with the Hispanic community about why it's important to be a member of the Knights of Columbus," McCusker said, making the case that the Knights can help them build "a strong foundation of faith for them and their family."
McCusker's duties in the District Attorney General's Office will change on June 1 when he becomes the office's liaison with the Memphis Police Department, helping them as they build a case, as well as serving as the liaison with community groups. The new responsibilities will give him more time to devote to his work with the Knights, he said.
McCusker's wife Theresa also is an Assistant District Attorney General in Shelby County. They have three children, Madeleine, 17, Joseph, 15, and Meredith, 12.
Elected with McCusker were state officers: Fred Laufenberg of Council 16088 of St. Francis of Assisi Church in Crossville as State Secretary; Bill Markiewicz of Council 4572 at St. Therese of Lisieux Church in Cleveland as State Treasurer; Eric Pelton of Council 8576 at St. Jude Church in Chattanooga as State Advocate; and David Zwissler of Council 9317 at St. Francis of Assisi Church in Cordova as State Warden.
Putting Christ at the center
Tracy Staller's term as the Knights' Tennessee State Deputy has been highlighted by the state's success in recruiting new members.
"So far this year we've been leading the U.S. and Canada" in the percentage of its recruitment goals, said Staller, a member of Council 12961 at Holy Family Parish in Seymour.
"We've focused on putting Christ at the center of everything we do as Knights," Staller said. "We found that's what most Catholic men have been hungry for. It's what they've been looking for.
"It's lit things on fire," Staller added. "It's been amazing."
The seed of Staller's efforts was in a comment by Supreme Knight Carl Anderson, who said "If we want to attract new members we have to become the men that other men wish to be like," he said.
"As Knights what are we first and foremost? We're Catholic," Staller said. "Every day I try to grow closer to Christ. If that's my goal, putting him first is what I have to do in my life and that's what we have to do first as Knights because that's the goal of every man on this journey."
To do that, the Tennessee State Council, under Staller's leadership, developed the Strengthening Our Parish Home program.
"Many of us take our faith from a consumer point of view rather than being a participant," Staller said. "That's not what we're called to do, we're called to participate.
"I started thinking It's the same problem we have with our order," he added. "They weren't participating in the order. If we want to be better Catholics we have to put Christ at the center. That fixes both of the issues in our Church and in our order." The five steps of the Strengthening Our Parish Home program are:
• Serve God by partnering with your pastor.
• Anchor your council and parish in the sacraments. "That is the source of the grace that allows us as Catholics to do the work we as Knights want to do," Staller said.
• Embrace our common priesthood. In baptism, every Catholic is called to be a priest, prophet and king, by living holy lives, professing God's truth, and governing our world according to God's will, Staller said. "Ordained priests have to do what only they can do. We as Catholics have to help them."
• Help foster a positive image of our priests. The importance of that step hit close to home last summer as the Church was buffeted by reports of clergy sexual abuse in Pennsylvania and other places, Staller said.
• Turn to God for his help through prayer. The State Council partnered with the Handmaids of the Precious Blood in New Market, Tennessee, whose apostolate is to pray for priests. "We asked the Handmaids to write for us two novenas for our priests. One was prayed at the start of Advent and one at the start of Lent, two of the busiest and hardest times for priests," Staller said. "We prayed that the Holy Spirit would give them what they needed to get us through that time."
A jurisdiction in Canada has contacted Staller for information about the novenas so they can use them, he said.
As councils started implementing the program, Staller said, many that had been shrinking or stagnant started coming back to life. "Councils that had not recruited members in years were in the first half of the year recruiting their quota for the entire year," he said.
"To me the greatest thing, the thing that is the most edifying, is we're seeing men in our parishes stand up and be the Catholic men they've always been called to be," Staller said.