Let's join Pope Francis in prayer for the people of Ukraine.
Our Catholic Diocese of Memphis is deeply saddened and distressed by the news of the senseless war in Ukraine. We ask the Faithful across our 47 Parishes and Missions in West Tennessee to join Bishop Talley, Bishop Emeritus Steib and our Clergy in praying for a swift and peaceful resolution.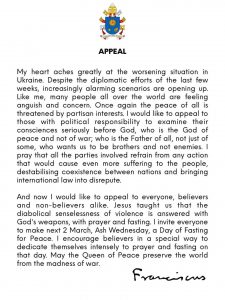 May God watch over and protect all—and may the Holy Spirit inspire us.