Sign up for CDOM Text Alerts!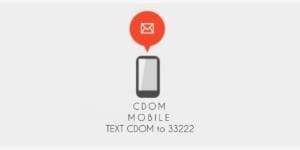 Sign up for CDOM Mobile Alerts! and get important information from CDOM sent as text messages directly to your mobile phone, wireless PDA or pager.
Stay informed by registering your cell phone number and/or email address for important announcements and breaking news!
Step 1: Text CDOM to 33222
Step 2: Reply with your first and last name (and email address if you would like to get the weekly newsletter) and you're in!
Message and data rates may apply
Users can stop or unsubscribe at any time by texting STOP to 33222
Please contact us if you have any questions
Go to the CDOM text alerts page by clicking HERE