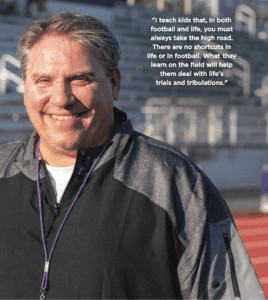 Brett Soefker has coached football to middle school students in the Memphis area for over 20 years. To him, football is more than just a game; it's a lesson in how to handle life's tough situations.
He says that as a coach, he's tasked with teaching life lessons to kids during a pivotal time in their lives when peer pressure is rampant and positive reinforcement can make a difference in a child's self-confidence.
"My goal isn't to win games; it's to develop kids for football and for life," he says. "I want to teach kids the fundamentals to play football while giving them a positive and loving environment to excel."
The tenets of his Catholic faith play a key role in his positive coaching style. He says that he's been blessed with the responsibility to be a positive role model for young kids and it's one he enjoys.
"Middle school is such a crucial and tough time in a child's life," Soefker says. "Some kids lack self-confidence and just want to have a special place where they belong. Football forces the kids to learn life lessons – to play and work towards a bigger goal. The success, in my view, isn't tied to wins and losses. It's tied to the kids working together. There are two things I want the kids to take away from the short time I'm with them – I want them to love the game as much or more than they did at the beginning of the year and to learn the key fundamentals to take with them into high school."
Making a Difference
Football played an important role in Soefker's life from a young age. He played football in high school for Christian Brothers High School (CBHS) in the Memphis area and during college at Vanderbilt University in Nashville, Tenn. When he moved back to Memphis in 1992, he says he wanted to give back to the sport he enjoyed playing as a child.
"I never had specific experience or mentor who encouraged me to coach," he says. "I just knew I had the knowledge and desire to minister to area youth. Coaching is just a passion of mine. My family and coaches were good influences to me growing up, and I had a desire to give back."
He began to coach third through eighth-grade boys in a municipal football league in Germantown, Tenn., a suburb of Memphis. From that experience, he discovered he had a talent for coaching middle school football. Over the years, he's taught a variety of sports for many Memphis-area schools and organizations, but he says his passion lies in coaching middle school students. He says that he felt he could make a difference in children's lives by teaching them how to handle tough situations responsibly while developing the skills to play football.
"Over the years, I learned that I enjoyed coaching sixth through eighth-grade kids," Soefker says. "Children around that age are willing to learn and assimilate information well. I knew that I could be a positive influence on those kids."
Principles of Faith
The key to his coaching style is simple – to show the kids love, not fear. He says children feel immense pressure to be accepted among their peers in middle school. He connects with them by showing them how to treat one another with respect.
He says that lesson starts with him.
"There are two ways you can coach the kids," he says. "You can scare them by screaming and cussing at them all of the time or show them love. These kids are at a time in their lives when they want to be loved and accepted. They need to enjoy the game. In my view, it's self-centered and doesn't align with my Catholic faith to break these kids down to accomplish a goal."
Soefker says he sees elements of his Catholic upbringing his coaching style. There are a couple of ways he uses the principles of his Catholic faith in his coaching:
Show that actions are louder than words.
Treat others the way you want to be treated.
Be a positive role model for others.
Always ask, "What would Jesus do?"
"The way I coach parallels with the tenets of my Catholic faith," Soefker says. "It's the concept by which I live my life. I ask, 'What would Jesus do?' The answer to that question is to always do the right thing. I teach kids that in both football and life, you must always take the high road. There are no short cuts in life or in football. What they learn on the field will help them deal with life's trials and tribulations."
He says that showing the kids how to treat one another with respect teaches them not only the fundamentals on how to play on a team, but also how to deal situations in life, such as reacting to adversity.
"There are scuffles on the field sometimes and when that happens, it's important to bring the kids together and teach them how to deal with conflict and adversity," Soefker says. "You teach them to show care and concern for others."
He admits that the responsibility to be a good role model for the kids can be a heavy burden to carry, but it's one he enjoys and doesn't take lightly. He says that the kids help him want to be a better person too, especially on days when life throws him challenges.
"It's important to teach these kids how to deal with life and be a good role model," he says. "I'm only with them for a brief period of time. Even when I've had a bad day at work or I'm stressed, I remind myself to be a positive influence on the kids. There's a time and place to be stern and teach them to work harder and smarter, but it's important to show them love and respect too."
Everyone Has a Position to Play
Soefker says that as long a child wants to play football on his team, everyone plays in a game. Each child, no matter how skilled he may be, plays a crucial role on the team. He says that many kids just want a place to be themselves and football provides a sanctuary for them.
"We have to be careful how we treat these kids," he says. "They want to be accepted for who they are as individuals. Everyone has a role on my team. Some of the kids who aren't the best players on the team are the best leaders and motivators."
Recently, Soefker received an email from a parent thanking him for providing his son with an environment where he could be himself during middle school. The child wasn't the most skilled player on the team, but became a strong leader and motivated the other players on the team to work harder. After the team won the championship game, the team made a unanimous decision to give the team trophy to the child for him to keep on his mantle at home. Soefker says that the team recognized it was the child's positive influence that kept the team motivated to work together.
"An experience like that is the reason for what I do," he says. "I want to give them an environment to excel and to let the kids know that there are things in life worth fighting for."
Starting a New Chapter
This fall, Soefker took his style of coaching to a new football organization for kids from all walks of life interested in attending a Catholic high school. Two Memphis-area Catholic high schools, St. Benedict at Auburndale (SBA) and CBHS, have partnered with Memphis Catholic Football to help increase enrollment as well as offer middle school students exposure to their football programs.
Soefker says the new football organization is open to seventh and eighth grade boys attending parochial schools and area public schools. The only requirements are that the children want to play football and have a desire to attend a Catholic high school.
Soefker, who is the organization's director, says he was asked to develop an offering to give parents and kids another option for athletics.
"Catholic schools are struggling with their enrollments, and some schools are having to partner with other schools to offer middle school football programs," he says. "Smaller parochial schools now have the opportunity to offer football through their schools by partnering with a football organization under a common name."
Currently, 50 children are playing on two teams during the organization's inaugural year. The teams will practice together, both at CBHS and SBA.
Soefker says that each child will have an opportunity to play in games and will learn the key fundamentals to succeed in football and in life – the same principles he's coached to teams over the past two decades.
"I love the game of football and I love working with kids," he says. "I want to do something with a purpose to it. I think everyone in the Catholic community in Memphis can benefit from this offering."
For more information on Memphis Catholic Football, contact Brett Soefker at 901-848-8102.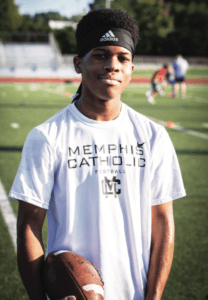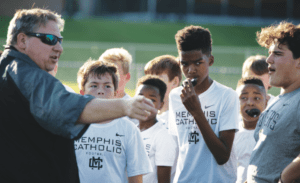 For more articles to enjoy, read the online digital version of Faith West TN