Congratulations to students at St. Ann Catholic School who were scholarship recipients this year.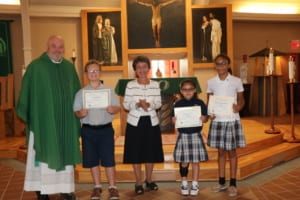 The Sister Connie Passing on the Faith Scholarship is in honor of Sister Connie for her dedication, service, and commitment to not only the Catholic faith, but also to St. Ann. This scholarship is awarded to students who are formed and grow in the Catholic faith at SAS. These scholarships also serve to help those families in financial need as they strive to give their children a Catholic education. This year's winners are Ryan Cronin (4th grade), Yoeni Morales (2nd grade) and Monserrat Zamudio (7th grade)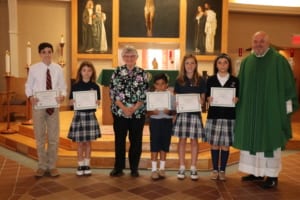 The Dr. Ruth Dinkins Memorial Scholarship in honor of Dr. Ruth Dinkins for her dedication, service, and commitment to St. Ann. Dr. Dinkins, or "Dink" as her friends called her, was a pioneer in medicine. The purpose of these scholarships is to reward students who honor their Catholic faith and have shown an interest and aptitude towards math and science. These scholarships are awarded to James Kargauer (7th grade), Evie Arrington (4th grade), Lio Gomez (3rd grade), Caroline Parker (5th grade) and Karla Ochoa (7th grade).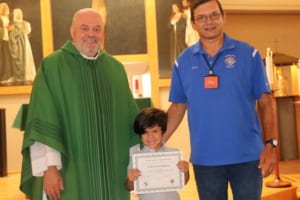 Our final student has been selected to receive the Edward J. Kitts Education Scholarship sponsored by the St. Ann Knights of Columbus Council #7170. The scholarship is awarded to a student who exhibits Christ-like characteristics such as, kindness, thoughtfulness, and a caring attitude towards their Teachers and fellow Students. Congratulations to this years' recipient – Christian Varela (Kindergarten)