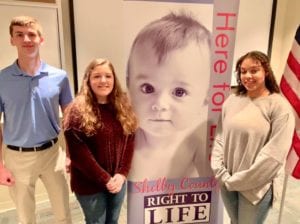 The Memphis Chapter of the Tennessee Right to Life held their annual Pro-Life Oratory competition on March 30 and the top three winners were from St. Benedict at Auburndale High School.
Junior Zach Person won 1st Place and $100 and has advanced to the State competition in Nashville in late April. Freshman Emma Drzycimski placed 2
nd
, winning $75 and Senior Brianna Jones placed 3
rd
and won $50.
The School has had winners advancing to the State competition the past three years. SBA – A voice for Life!