St. Paul Book & Gift Store Opens Location at Cathedral
Despite 2020 being a difficulty year for our nation, city, and even store, St. Paul Bookstore & Church Supply isn't ceasing to find opportunities to present Christ to the local Church in Memphis. Teaming up with the Cathedral of the Immaculate Conception, Memphis adds a second location of St. Paul Bookstore and Church Supply, a "Cathedral Bookstore" which will be present at the Cathedral in the anniversary year of both the Cathedral and our Diocese.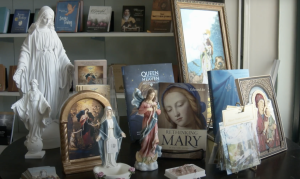 The Grand Opening of the store in the Cathedral Bookstore will be December 8th of 2020, renovating the old library into a space for people to encounter Jesus through our volunteers, sacramentals, and potential events.
Plans are for the new Cathedral Bookstore is to have a presence at all the Diocesan and Cathedral events that happen at IC, and they hope through this new venture to further their mission of presenting Christ to our local Church.
Please see the video below as Devanie Marie Cooper, Co-Owner/Store Manager, St. Paul Book & Gift Store, and Fr. Robert Szczechura, Pastor, Cathedral of The Immaculate Conception, announce the opening of the St. Paul Cathedral Bookstore on Tuesday, Dec. 1, to go along with the church's 100 Year Anniversary.