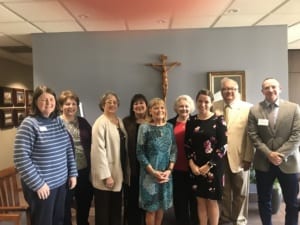 Pictured above: Mrs. Sondra Morris, principal of St. Benedict High School, Mrs. Teddi Niedzwiedz, Principal of St. Louis School, Mrs. Sandra Leatherwood, Director of Catholic Education, Diocese of Charleston, SC, Dr. Therese Williams, Retired Superintendent of Catholic Schools, Diocese of Nashville, Mrs. Janet Donato, Superintendent of Catholic Schools, Diocese of Memphis TN,
Mrs. Ellen Ayoub, Superintendent of Catholic Schools Diocese of Metuchen, New Jersey, Ms. Stephanie Brown, Assistant Superintendent of Catholic Schools, Diocese off Jackson, MS , Tommy Roque, Superintendent of Catholic Schools, Diocese of Alexandria, LA.
The Catholic Schools Office hosted an AdvancED Engagement Review Team from March 31st, 2019 to April 3rd. AdvancED, the largest community of educational professionals in the world, is the accrediting agency for the Catholic School System. The responsibility of the six member Review Team was to look for evidence that shows the system adheres to the AdvancED Performance Standards, evidence of a system-wide framework for continuous improvement, and evidence that the system has methods to monitor and maintain quality assurance across the system. In 2007 the Diocese of Memphis Catholic Schools System was the second Catholic System in the country to receive AdvancED System Accreditation.
During the onsite visit the members interviewed department directors from the Catholic Center, school administrators, parents, school advisory board members, teachers, and students. Team members visited classrooms in eight schools using an observation instrument called the "eleot" which is a tool that measures and quantifies active student engagement.
Before leaving the Team met with the superintendent. They commended the schools for the strong Catholic Culture and faith formation that is embedded in the System. The Team commended the schools for high scores on the "eleot" classroom observations. The commitment of parents to the quality and mission of Catholic education, the strong collaboration among school principals, and the support of leadership were also mentioned.
In addition to being part of the System AdvancED Engagement Review,
St. Louis School went through the process of preparing for STEM Certification. They hosted a team of STEM educators from AdvancED from March 31 to April 2nd. On April 2, 2019, St. Louis became the first Catholic school in the state to become an AdvancED STEM Certified School.