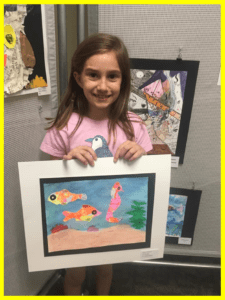 The 25th Annual Memphis Diocesan Art Show was held at Holy Rosary on May 5, 2019. Art teachers from each school in the Catholic Diocese of Memphis as well as St. Agnes Academy submitted artwork to be displayed in the show. Each year, the show highlights the importance of fine arts in a child's education and recognizes students with remarkable artistic ability. Attendees enjoy viewing a variety of art, including: drawings, paintings, mixed media, and photography. The featured artists are students in kindergarten through 12th grade and the location of the show varies from year to year.
DeEtta Jones, St. Agnes Academy art teacher, and Robin Durden, St. Louis Catholic School art teacher, began organizing the show in 2016 to carry on the tradition started by Ms. Pam Yatsula. Mrs. Yatsula was the art teacher at Holy Rosary who founded the show so that children in Catholic schools could share their artistic talents with our community. She gave her time and energy to ensure that the show would take place each year until cancer took her life in 2015. When Ms. Jones and Ms. Durden became the coordinators of the art show, they presented Ms. Yatsula's sons, Matt and Kyle, a piece of art and a plaque honoring their mother. To remember Ms. Yatsula's contribution in the years to come, one person will be recognized in her honor at the annual show.
This year, Tallie Hodges, long-time Administrative Assistant at the Catholic Schools Office, was awarded the Pam Yatsula Award. Mrs. Yatsula made sure that all schools in the diocese were well represented and that each participant was recognized and given a certificate. Now, Mrs. Hodges spends countless hours creating art certificates for our talented students. She also communicates information about local art events to art teachers and principals throughout the school year. Tallie's generosity is greatly appreciated and has a huge impact on fine arts in our Catholic Schools. We are grateful for Mrs. Hodges and proud of all of the students who were honored this year!