Christian Brothers High School will host a special and unique night of fun and food with its 8th annual "A Taste of CBHS" gathering to be held on Sunday, March 3, 5:00 – 7:30 p.m. Presented by Frank Grisanti Italian Restaurant, the event will give the gathering of alumni, current and past parents and grandparents, and friends of CBHS the opportunity to enjoy an evening filled with remarkable food and friendly faces.
More than three dozen restaurants, food brokers, wine and beverage distributors, and other vendors will participate in "A Taste of CBHS." Most have their own ties to CBHS as alumni, parents, or grandparents of CBHS students. Their specialties will be on display in Heffernan Hall with food and drink that one can sample – all in one convenient location. Other features include a wine pull, personalized CBHS stemware, A Taste of the Arts, featuring music by Walnut Groove Jazz Band, individual vocal performances, and theatrical showcases.
Among the confirmed 2019 participants are: A Moveable Feast, A.S. Barboro, Athens Distributing Co., Automatic Slims, Bangkok Alley, Blind Bear, Blues City Café, Bosco's, Buster's Liquors, The Butcher Shop, Café Olé, Coletta's, Corky's BBQ, Crosstown Brewing, Co., Ecco on Overton Park, Firebirds, Frank Grisanti Italian Restaurant, Garibaldi's Pizza, The Grove Grill, The Half Shell, Huey's Restaurants, Jim's Place Grille, Leonard's BBQ, Libro at Laurelwood, Lucchesi's Ravioli & Pasta, Old Dominick Distillery, One & Only BBQ, Pontotoc Lounge, SAGE Dining, Schultz Glory Oaks Vineyard, Soul Fish Café, Southern Glazer's Wine and Spirits, Sweet Grass/Next Door, Ubee's, Vanelli's Deli, and West Tennessee Crown Distributing Co.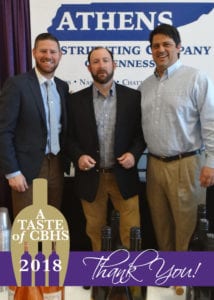 Tickets to attend the benefit are $75 apiece and are available on-line on the CBHS website, www.cbhs.org, at the CBHS Advancement Office, or at the door. For more information, contact Laura Hughes in the CBHS Development Office, (901) 261-4930 or lhughes@cbhs.org.
"A Taste of CBHS" will be held on Sunday, March 3, 5 – 7:30 pm, in CBHS Heffernan Hall. Athens Distributing will be among the dozens of restaurants and vendors participating in the eighth annual event.