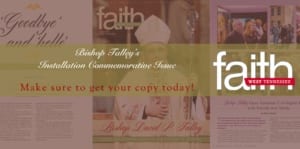 Bishop David's Installation Issue of Faith West TN is ready. If you haven't reserved your copy you will want to do so as soon as possible. The magazines will be shipped the week of May 20. You can reserve your copy one of three ways.
(*If you already are a subscriber to Faith West TN you will receive this copy as part of your subscription)
You can order online by clicking this LINK , you can call Lorena Monge at 901-373-1209, or you can email Lorena @ lorena.monge@ cc.cdom.org and let her know you would like to reserve your copy.