Msgr. Albert Kirk appointed interim executive director of Catholic Charities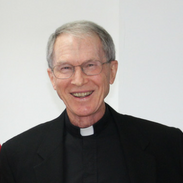 Memphis, TN – June 7, 2019 – Monsignor Albert Kirk, pastor emeritus of Church of the Holy Spirit, has been appointed interim executive director of Catholic Charities of West Tennessee (CCWTN).
A long-time member of the CCWTN Board of Directors, Kirk will provide leadership for the agency as it begins a formal search for a new executive director following the resignation in May of former executive director Richard C. "Dick" Hackett.
Kirk brings a wealth of knowledge and experience to his role at CCWTN because of his long service on the Board of Directors. He retired from the active ministry in 2012 after serving Church of the Holy Spirit for 16 years. Since retirement, he has continued teaching and ministry at Our Lady Queen of Peace Retreat Center.
"I am happy to serve as an opportunity to be in greater solidarity with the poor in the challenges they face," Kirk said of his interim appointment. "Catholic Charities is one of the treasures of the Diocese, and we look forward to bringing on board an Executive Director who will further its ministries, support its staff and collaborate with the ongoing work of our parishes as they serve Christ in His poor."
Established in 1971, CCWTN serves on the front lines of poverty in one of the poorest cities of its size in the United States, seeking to fulfill this mission: Following the teachings of Jesus Christ, we provide help to those in need and bring them hope by supporting them on the path from poverty to self-sufficiency.
Catholic Charities strives to meet those needs through a Housing Ministry, Fig Tree Emergency Services, Immigration Services, Parish Social Ministry, mobile food outreach and the Driving the Dream program. For more information please visit the agency website at www.ccwtn.org and visit us on Facebook.
Media may contact Leigh Ann Roman, Catholic Charities Director of Communications and Development at leighann.roman@acc.cdom.org or 901-722-4733.