SBA Students Win Supreme Essay Contest at the Knights of Columbus Council and District Levels
Three St. Benedict at Auburndale High School students had their entrants in the Knights of Columbus Supreme Essay contest on: How trusting God during a difficult time has helped you or someone you know find strength and hope to endure it, considering especially those times when it was a challenge to understand why something was happening, win at the Council and District levels. Their essays will be submitted for competition at the State level.
Winners by grade level:
9th grade – Tiffany Rezendiz
10th grade – Grace Regan (2-time winner since attending SBA and winner as a student at OLPH)
12th grade – Laura Schaffler
The Awards were presented by St. Francis of Assisi Council 9317 Grand Knight, John Beatty and District Deputy Mike Rominski (Picture 2)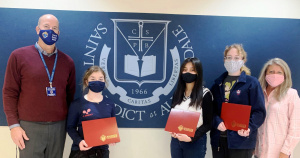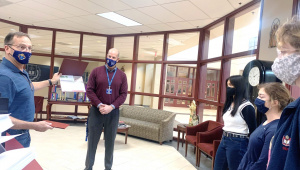 Picture 1: (from left) St. Francis Council 9317 Grand Knight John Beatty, SBA senior Laura Schaffler, SBA freshman Tiffany Rezendiz, SBA sophomore Grace Regan and SBA Assistant Principal Dr. Beth Fischer.