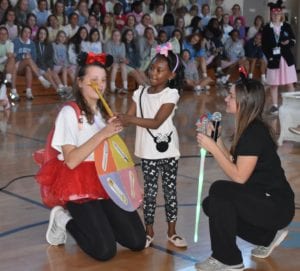 Students at St. Agnes Academy-St. Dominic School made wishes come true for one very special little girl when they surprised her during a recent wish granting ceremony.
Six-year-old Abbi and her family arrived at SAA-SDS where Abbi was welcomed by students from Kindergarten through 12th grade. As Abbi made her way through the gym, she was greeted by many new friends included a red headed mermaid and and some Ninja Turtles. At the completion of her "journey" Abbi entered the Mickey Mouse Club House bounce house and was told she would be going to Disney! She was showered with gifts for her trip including a camera, sunglasses, beach towels, and other items for that special visit to Orlando and the Magic Kingdom.
This is the 18th year St. Agnes and St. Dominic students have participated in the Make-A-Wish "Kids for Wish Kids" program. The entire school participated in special fundraising activities that included a Read-a-Thon and Trivia game. Student chairs for the event were St. Agnes sophomores Lilly McCrary and Eve Davis.