Value of Catholic Education Visible in Uncertain Times, by Cathy Armstrong, Director of Recruitment and Enrollment, Immaculate Conception Cathedral School
In 2005, when Hurricane Katrina threatened New Orleans, several family members came to Memphis, not knowing if their homes would be intact when they returned. I was intrigued by what they hastily loaded into the back of their cars, what things seemed valuable in their brief preparation to evacuate. They didn't bring china or silver, precious gemstones or even family heirlooms, but rather photo albums, old letters, homemade gifts their children had made.
We value different things at different times in our lives. If anyone had told me this past New Year's Eve that by spring my three most valuable possessions would be toilet paper, disinfecting wipes, and two homemade masks, I would have wondered what planet they were from. We've gone from casually running into the grocery store to grab dinner to rising early in the morning to be one of the first in line at a big box store to replenish necessities that may not be on the shelves when we get inside.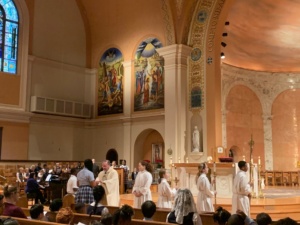 On Friday, March 6, our students attended what would be the last in-school Mass of the 2019-20 school year.
I was escorting a kindergarten class into the Cathedral when one of our precious little ones reminded me that I hadn't stopped at the font for Holy Water. This sweet girl confidently assured me it was "what we needed to get us ready for church."
Little did we know that it would also be what we needed to get us ready for what was coming. How I wish I had valued that last school Mass in our beautiful Cathedral!
Later that day, during a tour of our early childhood classrooms, Pre-K teacher Mrs. Copous pointed out to our visitor a cute frog craft the students had created. "Frog…Fully Rely on God" was written on each quirky, spotted frog. How could we have known the value that mantra would have in the coming weeks?
Beginning Friday, March 27 and each Friday the remainder of the school year, our students attended a live Facebook video-streamed school Mass. Fr. Marshall and vice principal Chad Stevens quickly learned to maneuver technology so we could all be present celebrating the liturgy and Eucharist together. I was excited to look at the Facebook page and see who else was "in attendance." Faculty, administration, parents and students gave "shout-outs" to each other, and there was a true connection re-established among those we loved and missed.
As we moved to distant learning, daily classes and teachers' video presentations still included an opening prayer. The youngest students were reminded with Easter stories read by librarian Nancy Miller and their teachers that in the blessed Easter season, our hope resided in our risen Lord. Our High School girls composed a prayer, posted alongside their assignments, assuring us that in the midst of the uncertainty, God was still in control.
What do we value at a time when our most prized possessions have little to no use in our quarantined lives? At ICCS, we recognize that enduring value is present in a shared Mass, a teacher's heartfelt prayer for health and safety, a school lesson that allows us to share the hope and deliverance of a living God.
Faith-based education, where God's promises are woven into everything we do and say, is truly one of the most valuable possessions we can give our children, especially in uncertain times. Being able to share our faith sets us apart from other schools, and especially during times like these, we believe there is immeasurable, unchangeable value in the Catholic education we provide to our students.
I'll end with a quote of unknown origin that speaks volumes:
"The things you value are like fingerprints. . . they are imprinted on everything you do."