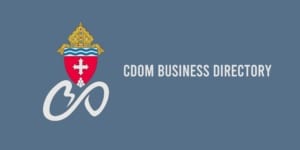 CDOM has developed a network of Catholic-owned businesses as a resource for you.
Place your business or services ad on the CDOM Business Directory for everyone to see! It's easy – simply click the Register Business link to start the process, or click here to contact the webmaster. For the first 30 days there will be no charge to add your business!
It can be tremendously important to know that, when you need something, there is are businesses out there you can trust. Not because they have a cool logo, a catchy tagline, or a slick website, but because you join together with them each week for mass.We will have the CDOM Business Directory available in print form in December, however the Business Directory is best utilized online for the most up to date business additions.
With this Directory, it is our sincere desire to connect our parishioners across our diocese who own businesses or provide services that you may need. Catholic Diocese of Memphis in no way endorses or vets these businesses. However, we encourage our member business owners to use this directory to bless the Church through exceptional service and we encourage our parishioners to use this business directory to bless these member businesses with consistent patronage.
The listings in this directory are provided as a courtesy to parishioners of the Diocese of Memphis and visitors, and should not be relied upon as having any affiliation, sponsorship, approval and/or recommendation from CDOM.
You can CLICK HERE to register your business.
You may also contact our webmaster if you have any questions or to register your business through the Office of Communications. Contact info is amy.hall@cc.cdom.org or 901-373-1252.